Once you are logged in to the Reading Partners Connects platform and you've accessed your lesson materials, follow these steps to present the lesson materials to your student.
Step 1
In order for the student to see the Google slides presentation, you need to present it from your window. You will select the down arrow in between "present" and "share" and then select "presenter view."
IMPORTANT: Do not press "present" or "share."
Step 2
The speaker notes will then appear. You can use this script or the lesson plan – it's your choice. If you like this layout, move it to the left hand side of the screen. If you prefer to use the lesson plan only, you can close out this box. You can adjust the size of the window by clicking the edges of the box. When you hover your mouse over the edge of a window, a small arrow appears. You click and hold down and move the window to adjust the size. Regardless of which option you prefer, you will still want to keep the lesson plan handy.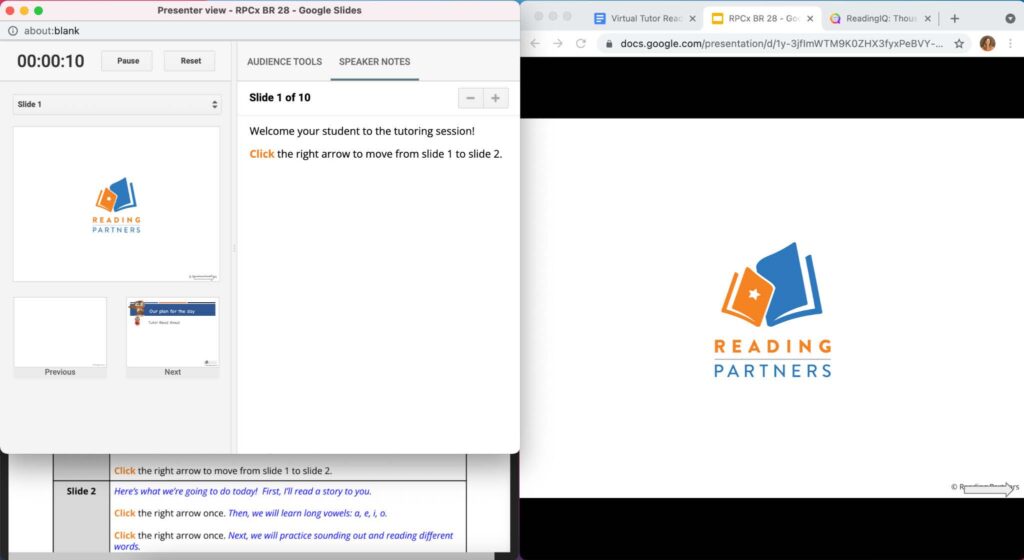 ---
Here's a video demonstrating how to present slides to your student.