"Our people, our history, our struggle is more than a war, more than a fall, more than a favorite dish, more than one monolithic political opinion, more than one dialect, one gender, one nation, one flag. Respect and love to the diaspora – as imperfect as I am, I am one of you and I am yours."  – Bao Phi (author of A Different Pond)
Asian American, Pacific Islander, and Native Hawaiian (AAPINH) peoples consist of a wide range of histories, languages, cultures, and identities that make up a population of over 50 distinct ethnic groups in the United States with roots in more than 40 countries. When putting together this booklist, we wanted to try and capture the stories that come from a place of personal experience – stories that reground us in the things that make us who we are. Included are quotes by the authors of each book as well as links to more about them and their work. Please feel free to dig deeper, not only into these AAPINH stories of identity and connection, but also into the larger narrative of representation, and how these stories are being told, in what ways, and by whom.

I Am Golden by Eva Chen and illustrated by Sophie Diao
I Am Golden tells the story of Mei, the daughter of Chinese immigrants to New York, who is shown to be a bridge connecting her parents to their new home in the United States of America.
"I wrote I Am Golden to be the book I never had growing up. This book is an ode to the immigrant experience, my parents are immigrants, and a manifesto for Chinese American joy. I wanted to write a book that reflected the joy and pride that I feel in being Chinese American and really have this book be a learning tool and a conversation starter for parents as they talk about cultural identity and racial identity with their children." – Eva Chen, author of I Am Golden
Watch a read-aloud of I Am Golden by first-generation Chinese-American author Eva Chen here.
Check out more of Chinese-American author and illustrator Sophie Diao's work here.

Eyes That Kiss in the Corners is a dazzling, lyrical ode to loving oneself – through the eyes of a young Taiwanese girl. Its tender yet powerful words and vibrant illustrations inspire readers to recognize their own beauty and strength, igniting a revolution of self-discovery and confidence.
"When I was growing up, I didn't have any books with characters that looked like me, so I used to wish I looked different. I would look in the mirror and I would lift up my eyelid like this [lifts eyelid to make it look bigger] … because all the people I saw in books and movies had really big eyes and I didn't. That's why I wrote this book – because I do not think that any kids should grow up wishing that they looked different. I hope that you all look in the mirror and know how beautiful you are and how powerful you are." – Joanna Ho, author of Eyes That Kiss in the Corners
Watch a read-aloud of Eyes That Kiss in the Corners by Chinese/Taiwanese-American author Joanna Ho here.
See more work by illustrator Dung Ho here.

Beautifully Me by Nabela Noor and illustrated by Nabi H. Ali
Beautifully Me is a story about Zubi, a joyful Bangladeshi girl excited about her first day of school. But when Zubi sees her mother frowning in the mirror and talking about being "too big," she starts to worry about her own body and how she might look to others on the outside.
"Throughout my career, I have consistently advocated for self-love and body celebration and over the years, I've learned that healthy body image needed to be taught at the root – with children. I spend every day helping people unlearn negative and unhealthy beauty standards. What would happen if I helped teach children to define beauty for themselves?" – Nabela Noor, author of Beautifully Me
Learn more about first generation Bangladeshi-American designer, author, and entrepreneur here.
Check out more work by Tamil-American illustrator Nabi H. Ali here.

The Twins' Blanket is about "look-alike" twins who share everything – their room, their toys, a crib, and since the day they were born, a blanket. But as they grow into new beds, they need new blankets too. Now they face a new dilemma: they don't know how not to share their blanket with one another.
"As a little girl, I had the most loving, picture-book-perfect family. I have a twin sister, who has been my best friend ever since we were in mommy's belly, the funniest dad, caring mom, and troublesome little sister. Now I have two lovely sons who grew up with my book titles. I am very close to my family, so the relationship with them inspires all of my works." – Hyewon Yum, author of The Twins' Blanket 
Learn more about Korean-American author and illustrator Hyewon Yum and her work here.

Asian-Americans Who Inspire Us by Analiza Quiroz Wolf with Michael Franco and illustrated by Tuire Siiriainen
Asian-Americans Who Inspire Us introduces readers of all ages to 16 Asian-Americans who changed the world. Among these biographies, readers will find heroes, discover role models, and meet ordinary people who did some really extraordinary things!
"Whether artists, athletes, or activists, Asian-Americans have shaped history and helped make our world what it is today. This book highlights just a handful of the many Asian-Americans who inspire us." – Analiza Quiroz Wolf, author of Asian-Americans Who Inspire Us
Learn more about Filipino-American executive coach, facilitator, consultant, and author Analiza Quiroz Wolf here.
See more work by illustrator and designer Tuire Siiriainen here.

Grandfather's Journey is a story based on the author's grandfather's voyage from Japan to the United States and back again. At once deeply personal yet expressing universally held emotions, this tale of one man's love for two countries and his constant desire to be in both places will capture your attention and heart.
"Bicultural. It's, when you leave your country, you essentially leave it for good, and you instantly become a foreigner to your own culture. In a way, a fish out of the water. And that's what modern life is about. Especially in this country." – Allen Say, author of Grandfather's Journey
Learn more about Japanese-American author and illustrator Allen Say here.

Drawn Together by Minh Le and illustrated by Dan Santat
Drawn Together is a beautifully told and illustrated story about when a young boy visits his grandfather and their struggle to communicate across divides of language, age, and culture. But as they sit down to draw together, something magical happens and the two form a bond beyond words.
"This book is very personal to me because it is inspired by my relationship with my own grandparents … My grandparents mostly spoke Vietnamese while I spoke mostly English. Whenever I go to their house, I love them so much and they love me so much, but I still had trouble talking with and communicating with them. I'm not sure if you've had the same experience … So I wanted to write a book that both captured the depth of love and emotion there but also talk about the struggles that can come with these relationships." – Minh Le, author of Drawn Together 
Watch a read aloud of Drawn Together by Vietnamese-American author Minh Le here.
See more work by Thai-American author and illustrator Dan Santat here.

A Different Pond by Bao Phi and illustrated by Thi Bui
A Different Pond is centered around a father and son fishing trip that offers a powerful, honest glimpse into their relationship – and between cultures, old and new. Between hope-filled casts, the boy's father tells him about a different pond in their homeland of Vietnam that he used to fish in.
Learn more about Vietnamese-American spoken word artist and writer Bao Phi here.
"I was thinking about parents who read books to their children, as well as the kids who might be reading A Different Pond on their own. I hope that some of them are seeing themselves in it, and that other folks can appreciate a window in. Honestly though, it's a message in a bottle. We put all the love and meaning into it we could, and what meaning people get out of it when it reaches them has so much to do with their own circumstances and headspace that all you can do is just hope it does something, anything." – Thi Bui, illustrator of A Different Pond
Take a look at more work by Vietnamese-American cartoonist Thi Bui here.
Curriculum spotlights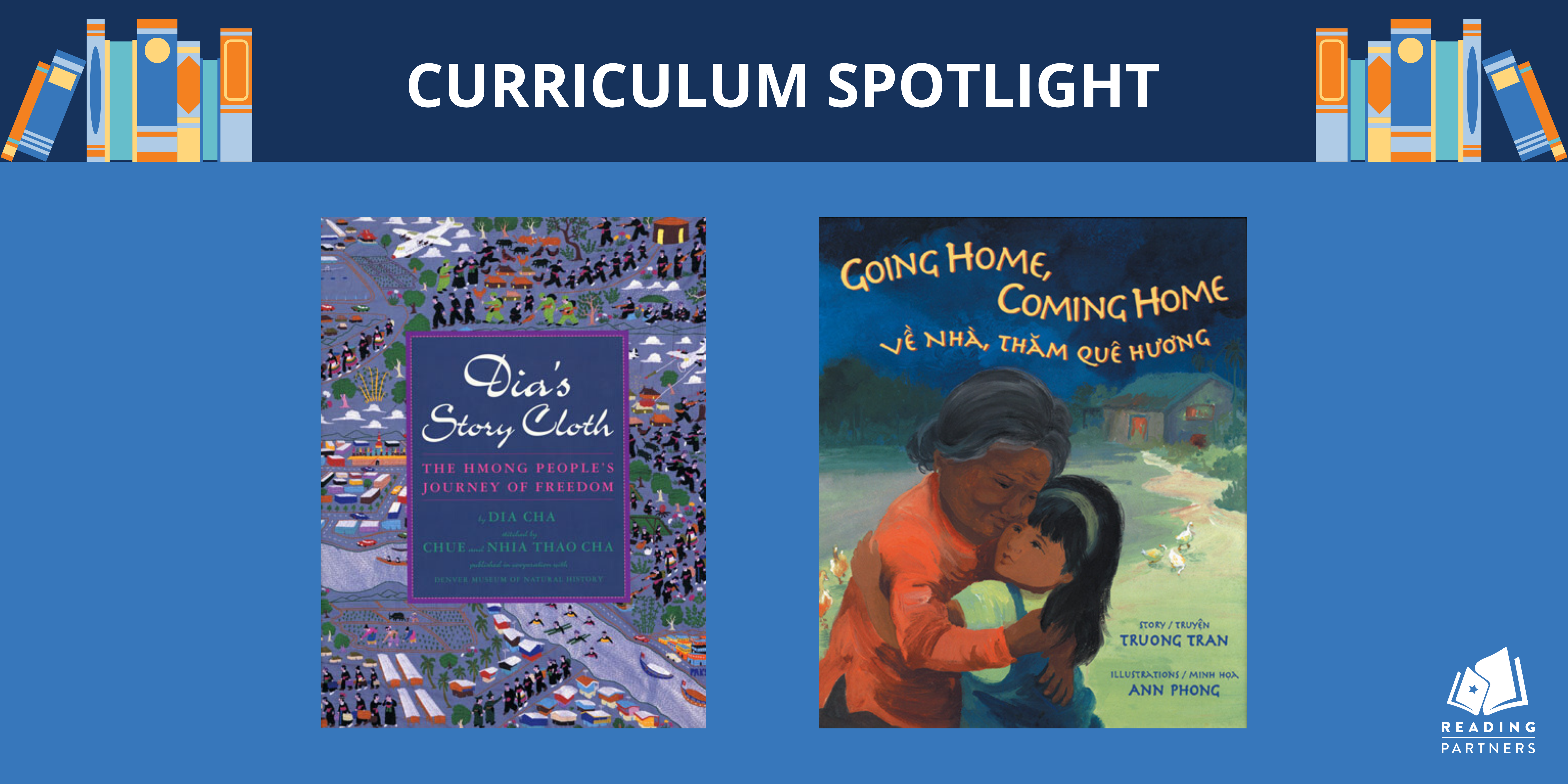 This section includes a few titles from the Reading Partners curriculum that connect with the theme of the booklist and are authored by individuals whose identities align with the specific heritage being celebrated. We're proud to offer these AAPINH stories of identity in our curriculum: