"Haa lá ánit'é? Nizhónígo ch'aanidíínaał."
"How are you? And have a good journey."
Diné bizaad is a native language spoken by the Navajo people and it is one of approximately 150 native North American languages still spoken in the United States by more than 350,000 people. Of these languages, the most commonly spoken language is Diné bizaad. The second most common native North American language spoken is Yup'ik, which is the indigenous language of Alaska. Prior to European colonization, there were over 2,000 indigenous languages spoken by more than 15 million people in 1492. Native American boarding schools established by the United States government in partnership with Christian missionaries in the 19th and mid-20th century attempted to stamp out the indigenous languages and cultural traditions of millions of native people.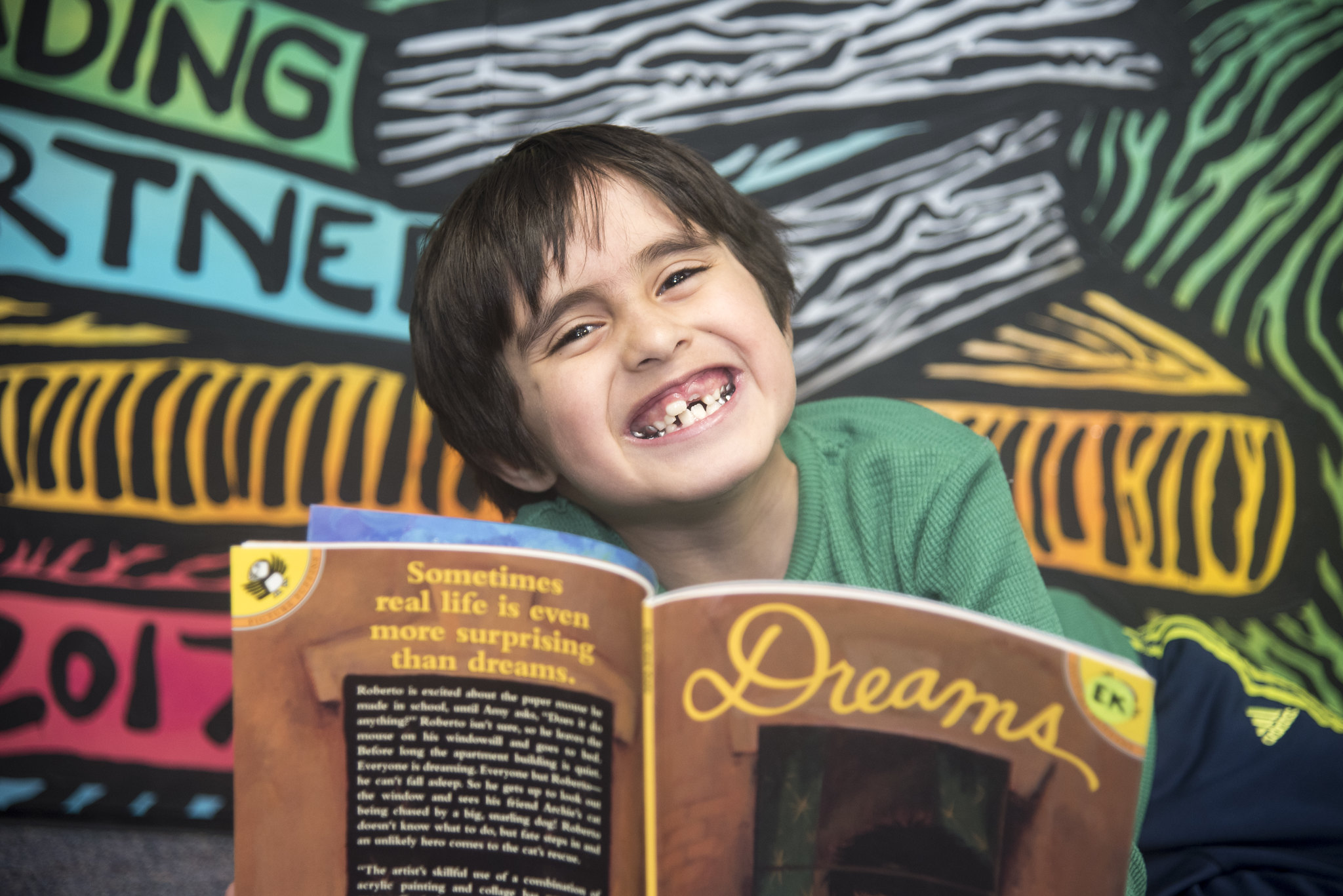 Today, Native communities across the country are working to preserve the 150 languages that remain. Traditionally in Native American culture, tribe members told stories about myths, legends, customs, and history orally as a way to keep linguistic traditions alive through generations. The Native American writing systems we see in books today were invented in the 1800s by European missionaries and linguists.
Multicultural literacy has always been an emphasis at Reading Partners. While our goal is to help students build their proficiency in English literacy, we believe it's important to encourage reading in all forms and to provide books that represent children of all backgrounds. One way to celebrate multiculturalism is through bilingual books.
Bilingualism honors and recognizes the diverse cultures present in the United States while also offering developmental benefits to students. Some of the varied and beautiful languages spoken in the Seattle region are Somali, Spanish, Vietnamese, Thai, Arabic, and Amharic among many others.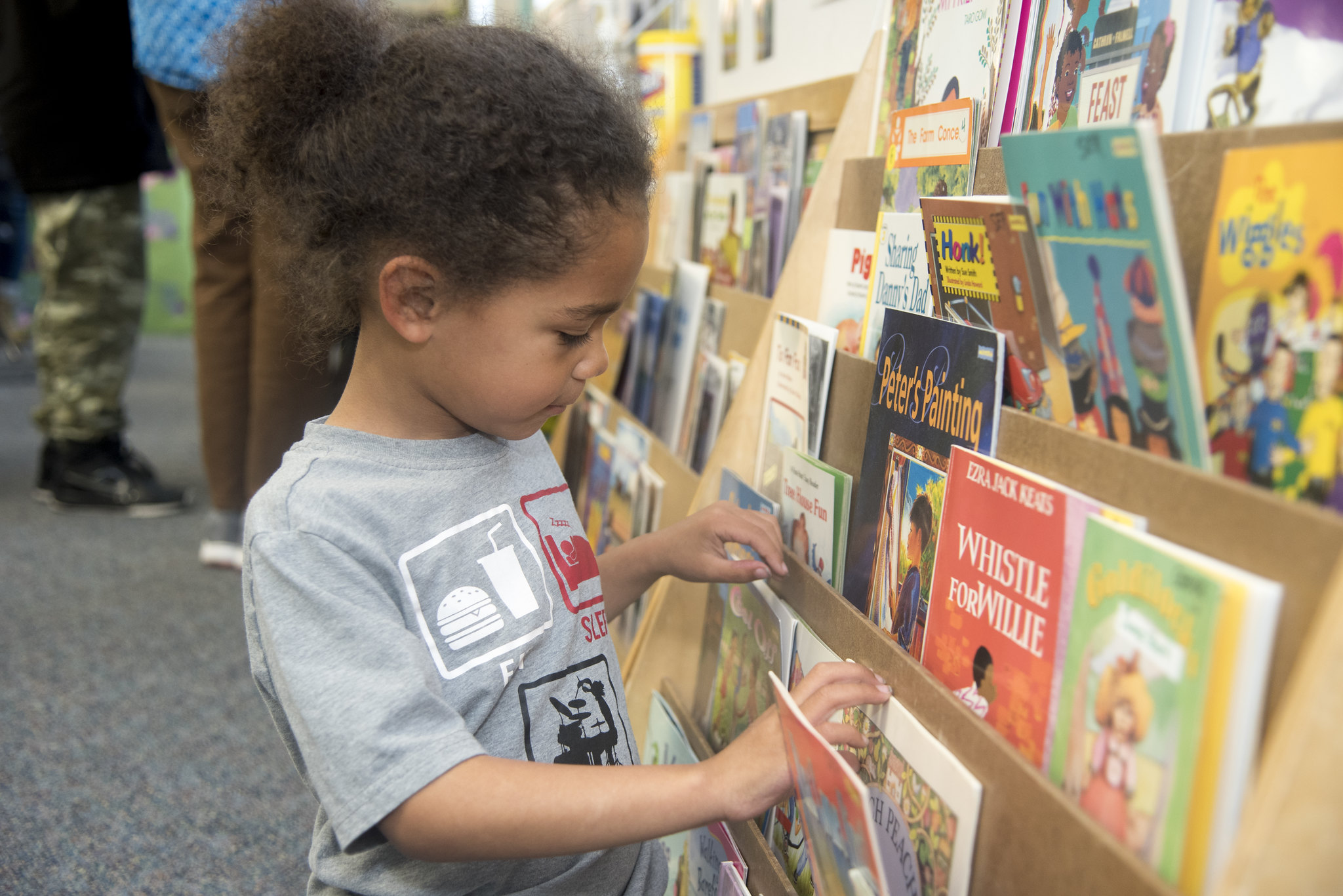 According to NPR's article "6 Potential Brain Benefits of Bilingual Education," children who are bilingual are better equipped to develop skills such as multitasking, focusing, paying attention to social cues for when and where to switch languages, and bilingual reading comprehension. Switching languages is a complex task. The brain uses control mechanisms to maintain a balance between the two languages. This involves executive functions in the brain which regulate cognitive abilities when using processes such as attention and inhibition. Bilingual students are truly incredible! Bilingualism is an advantage for our young readers inside and outside of the classroom as they understand and make sense of the world around them.
Native American culture is rich with a variety of languages and oral traditions of storytelling. There are 574 Native American tribes in the United States each with their own language, culture, and government.
These children's books showcase bilingualism in Native American languages: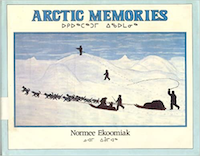 Languages: English/Inuktitut
The author, Normee Ekoomiak, is Inuk. In this story, he offers a glimpse into the Inuit culture of his childhood. The illustrations and descriptions show everyday activities, shortened versions of myths, and depictions of religious beliefs.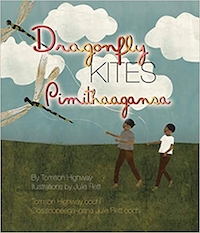 Languages: English, Cree
Two young Cree brothers, Joe and Cody, spend a summer by a lake in Manitoba exploring the world and the animals around them. Their favorite summer activity is flying dragonfly kites, which they create by gently tying a string around dragonflies and then letting them go. The boys enjoy racing after them and watching them fly off into the night sky. This is a story about imagination and discovering joy that exists in nature.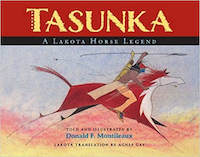 Languages: English, Lakota
In this legend from the Lakota people, a curious young warrior sets out to find and track a new animal. When he discovers the horse, the rest of the Lakota people tame the wild creatures and rule over the plains. But then, the Great Spirit, who gave the gift of the horse, takes it away. This traditional legend of the Lakota people showcases the importance of the horse in Lakota culture.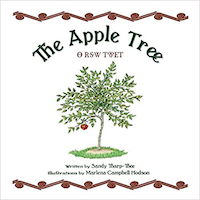 Languages: English, Cherokee
In this story, a young boy plants an apple seed and watches it sprout into the tree it is meant to be. The young apple tree grows impatient as it begins to doubt it can grow any apples, especially after it makes no apples after the first October passes. The little boy wonders how he can encourage the tree to allow for the seasons and years to work their magic.

Languages: English, Dene 
This book is a community project which was created by the teachers and students from Ducharme Elementary School in La Loche, Saskatchewan. Over 400 students provided artwork and ideas while a group of elders supplied culturally accurate information. The book explores aspects of Dene culture that were important in the past and continue to be relevant today. It shows the Dene way of life and emphasizes events and attitudes which are significant to the Dene culture.