Kelli Doss, Reading Partners' chief talent and equity officer, reflects on the Juneteenth book list theme, Thriving While Unapologetically Black. Kelli shares, "It is living on your own terms, embracing who you are and your culture, following your spirit and bringing that into any space. Embracing joy, not living with a sense of fear, using your agency for good, being unashamed, and not worrying what others think about you."
Kelli recalls her experience as the only Black girl in an all white school in Louisiana who never saw herself or other Black people in the books she read. She expressed gratitude that children today can see a representation of themselves and she believes it is critical that Black children do not feel that same absence of their identity that those before them have often felt. It is important that their books reflect Black people embodying the very things that make them who they are, finding joy in the color of their skin, and beauty and strength in their difference. It is similarly important that all children have access to stories that reflect the broader diversity of the world around them.   
So, whatever your background, it is our hope that you'll read, enjoy, and share this collection of books showcasing kids and families thriving while unapologetically Black.

Confident, empowered girls are celebrated in this follow-up to Happy Hair, a flower-filled, nature-loving, read-together picture book that encourages growth and positivity,
Lovely and wise, shine at sunrise! I am growing each day!
Beautiful Black and Brown girls with gorgeous natural hairstyles full of flowers, butterflies, and other garden treasures are the stars of this vibrant, rhythmic picture book from the author/illustrator of Happy Hair and Cool Cuts. Set in a backdrop of nature's glorious color and bounty, it's the perfect springtime read-aloud to promote confidence and self-esteem for girls of all ages.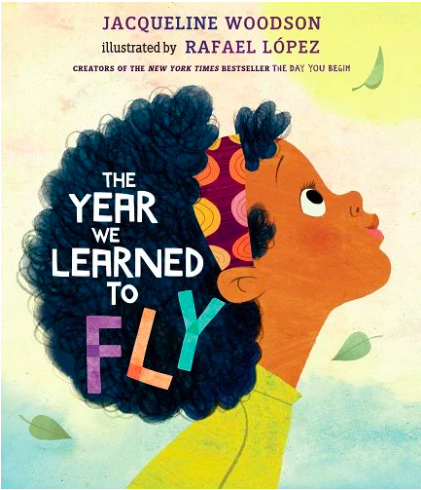 On a dreary, stuck-inside kind of day, a brother and sister heed their grandmother's advice: "Use those beautiful and brilliant minds of yours. Lift your arms, close your eyes, take a deep breath, and believe in a thing. Somebody somewhere at some point was just as bored you are now." And before they know it, their imaginations lift them up and out of their boredom. Then, on a day full of quarrels, it's time for a trip outside their minds again, and they are able to leave their anger behind. This precious skill, their grandmother tells them, harkens back to the days long before they were born, when their ancestors showed the world the strength and resilience of their beautiful and brilliant minds. Jacqueline Woodson's lyrical text and Rafael Lopez's dazzling art celebrate the extraordinary ability to lift ourselves up and imagine a better world.

On June 19, 1865, a Union soldier traveled to Texas to tell the enslaved people who lived there that they were free—that slavery was now illegal in every state. The people danced and sang in celebration of their freedom. Today, we pay tribute to this historical day with a special holiday on June 19 called Juneteenth. This colorfully illustrated story takes kids on an exciting journey through all the events that led up to the first Juneteenth, the day itself, and the impact it had on the future of the United States.

The Proudest Color by Sheila Modir and Jeffrey Kashou,
illustrated by Monica Mikai
Zahra sees the world in vivid color. When she's happy, she feels a razzle-dazzle pink in her hands. When she's sad, she feels a deep blue behind her eyes. But she isn't quite sure how to feel about the color of her skin. Kids at school tell her she is different, but her mother tells her to be proud! From a diverse team and based on extensive research, The Proudest Color is a timely, sensitive introduction to race, racism, and racial pride.

From A is for Afro, to J is for Justice, to R is for Rally, this alphabet book offers affirmations featuring Black children and role models to help children nurture and embrace their authentic selves and to enjoy the magic of childhood.

Bedtime Bonnet by Nancy Redd, illustrated by Nneka Myers
This joyous and loving celebration of family is the first-ever picture book to highlight Black nighttime hair traditions–and is perfect for every little girl who knows what it's like to lose her bonnet just before bedtime.

Through playful, powerful rhymes, and vivid illustrations, You're Here for a Purpose inspires black children to be positive, confident, and embrace their uniqueness. The book affirms each child's role in the world and holds them accountable for the energy they bring each day. The book also shows that as children grow, explore, and learn they co-create with God a divine plan that uses their talents, passions, and gifts.From early on, children are looking to discover their life purpose. You're Here for a Purpose introduces the concept of shaping your purpose by building a strong self-system — how you see and feel about yourself. By using affirmative words in their daily lives, children can learn to uplift themselves and develop a thriving self-system.

Each letter of the alphabet contains affirming, Black-positive messages, from A is for Afro, to F is for Fresh, to W is for Worthy. This book teaches children their ABCs while encouraging them to love the skin that they're in.
Be bold. Be fearless. BE YOU.

Joy! Joy! Joy! The Anthem for Black Boys engages readers from its opening in a rhythmic story about a boy overjoyed by his physical and cultural heritage. This picture book highlights the beauty of his kinky hair, wide nose, and indomitable joy as it tells the story of radical self-love and acceptance.

Marley and the Family Band by Cedella Marley and Tracey Baptiste, illustrated by Tiffany Rose
A picture book that celebrates music, love, and family from author Cedella Marley. A poetic story about a young girl who moves to a new country and learns to make friends—inspired by a childhood growing up with the musician Bob Marley as a father.