Most dictionaries define culture as "the customs, arts, social institutions, and achievements of a particular nation, people, or other social group." These definitions help us identify and map out the broad range of cultural traits and differences in communities across the world. But what does culture mean to you?
Immersing oneself in a new place is one of the best ways to explore cultures that are new to you. Since COVID-19 has completely changed how we navigate the world, we now have to be creative and find new ways to experience cultural diversity with limited travel.
Luckily for us, there are many ways to travel the world with our imaginations! Watching an old Italian movie, listening to an Edith Piaf song, or flipping through the pages of a book can give us a glimpse into the rich cultural diversity across the globe.
Exploring different cultural traditions through books is also a great way to introduce diversity to kids. The right book selections could open kids' eyes and minds to cultures entirely different from their own everyday experiences.
We've rounded up some books that celebrate the beauty and fun of cultural diversity through delicious foods and dishes from around the world, ranging from tamales to bee-bim bop to pancit. Pick a book, grab a pan, and have fun introducing new cultures (and flavors!) to your kids through the comfort of your kitchen.
Books and recipes to explore cuisines around the world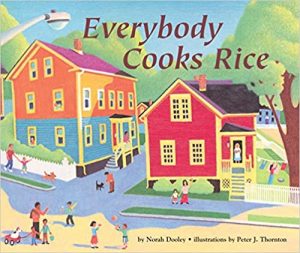 In this multicultural picture book, Carrie goes from one neighbor's house to the next looking for her brother, who is late for dinner. She discovers that although each family is from a different country, everyone makes a rice dish at dinnertime. Readers will enjoy trying the simple recipes that correspond to each family's unique rice dish.
Try this recipe for nuoc cham by Andrea Nguyen, and serve it over rice like the Tran family does.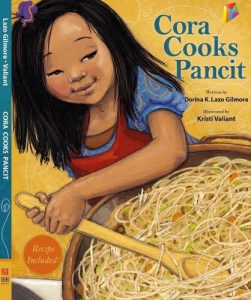 Cora Cooks Pancit by Dorina Lazo Gilmore and Kristi Valiant
Cora loves being in the kitchen, but she always gets stuck doing the kid jobs like licking the spoon. One day, Cora finally gets the chance to be Mama's assistant chef. And of all the delicious Filipino dishes that dance through Cora's head, she and Mama decide to make pancit, her favorite noodle dish. Dorina Lazo Gilmore's text and Kristi Valiant's illustrations delightfully capture the warmth between mother and daughter as they share a piece of their Filipino heritage.
Here's a recipe from Pickled Plum to try your hand at making pancit at home.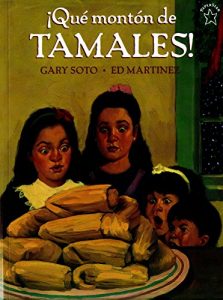 Christmas Eve started out so perfectly for Maria. Snow had fallen and the streets glittered. Maria's favorite cousins were coming over and she got to help make the tamales for Christmas dinner. It was almost too good to be true when her mother left the kitchen for a moment and Maria got to try on her beautiful diamond ring . . .
This is the story of a treasure thought to be lost in a batch of tamales; of a desperate and funny attempt by Maria and her cousins to eat their way out of trouble; and the warm way a family pulls together to make it a perfect Christmas after all. Also available in Spanish as ¡Qué montón de tamales!
If you are feeling ambitious, here's a recipe for traditional Mexican pork tamales from Mexico in My Kitchen.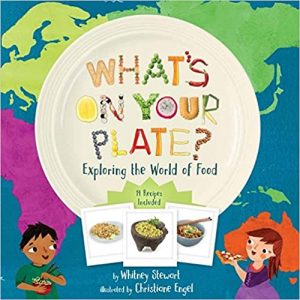 What's On Your Plate? By Whitney Stewart and Christiane Engel (Ages 5-9)
What's on your plate? Chances are it's not quite the same as what's on other children's plates around the world. Embark on a journey to see how people in different countries prepare, eat, and think about their food. Beautiful photographs and illustrations capture the food culture of 14 countries, from Brazil to Morocco to India and many others.
Each spread includes an overview of the country and its native foods, photographs of the various dishes with pronunciations and descriptions, an easy recipe for kids to try, and an illustrated crop map of the country. With so many fun elements to intrigue them, young foodies will be excited to learn about how people eat across the globe.
Choose a favorite recipe from the book. Or try this one for pão de queijo (Brazilian cheese rolls) representing Brazil:
Ingredients
3 cups of tapioca flour
1½ cups shredded Parmesan cheese
½ teaspoon baking powder
1 teaspoon salt
2 eggs
⅔ cup olive oil
1¼ cups milk
Instructions
Preheat the oven to 400 degrees F.
Mix all ingredients in a blender until smooth.
Pour into the eight cups of a standard nonstick muffin pan. Fill each cup two-thirds full.
Bake for 20-25 minutes, or until puffy and golden brown.
Duck for Turkey Day by Jacqueline Jules and Kathryn Mitter (Ages 4-8)
It's almost Thanksgiving, and Tuyet is excited about the holiday and the vacation from school. There's just one problem: her Vietnamese American family is having duck for Thanksgiving dinner— not turkey! What will her teacher and the other kids think? To her surprise, Tuyet enjoys her yummy thanksgiving dinner anyhow and an even bigger surprise is waiting for her at school on Monday. Kids from families with different traditions will enjoy this warm story about "the right way" to celebrate an American holiday.
Feeling ready to ditch the turkey and embrace duck for dinner? Here's a Vietnamese roast duck recipe from NP Family Recipes that seems delicious!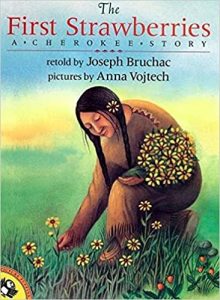 The First Strawberries by Joseph Bruchac and Anna Vojtech (Ages 4-8)
Long ago, the first man and woman quarreled. The woman left in anger, but the Sun sent tempting berries to Earth to slow the wife's retreat. Luminous paintings perfectly complement this simple, lyrical text and will probably leave you craving for these delicious, vitamin-c packed fruit!
Simply pick up a basket of strawberries and enjoy after reading, or try a new strawberry recipe!
Bee-Bim Bop! by Linda Sue Park and Ho Baeck Lee (Ages 4-7)
Bee-bim bop (the name translates as "mix-mix rice") is a traditional Korean dish of rice mixed with meat and vegetables. Using bouncy rhyming text, this book tells the story of a hungry child helping her mother make bee-bim bop: shopping, preparing ingredients, setting the table, and finally sitting down with her family to enjoy her favorite meal. Even young readers who aren't familiar with the dish will recognize the pride that comes from helping her mom, the fun of mixing ingredients together, and the pleasure of sharing delicious food.
Includes the author's own recipe.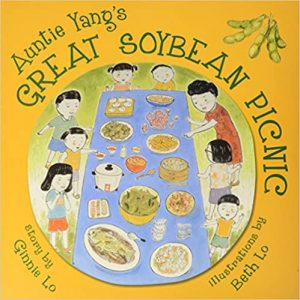 A Chinese American girl's Auntie Yang discovers soybeans—a favorite Chinese food—growing in Illinois, and their family starts a soybean picnic tradition that grows into an annual community event.
Try Angelo Sosa's recipe for chilled edamame and spring pea soup contributed in partnership with Lee and Lowe books.